---
Welcome to the website of our kennel "STRÁŽCE PALISÁD (GUARDIAN OF PALISSADES)", which is about our dogs, training and breeding.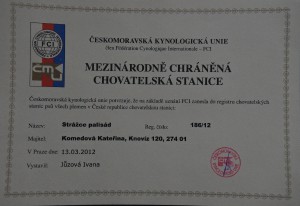 At the moment, we are breeding the Belgian Shepherds (Malinois). We place the emphasis on our animals being healthy and on them being balanced with regards to their psychological profile and nature. We strive to breed animals that would could be employed for all the varieties of cannine sports and for the use with the Army, Police, Customs etc.
We adhere to all the ethical principles of breeding and to all the rules applicable in the Czech Republic. We have always striven to do our best in this regard and will always do the same in the future.
In the past, our kennel had produced two litters of welsh-terriers. In the future, however, we no plan to continue in this line of breeding.
At the moment, we have two stud dogs available for mating at our kennel:
- Airedale Terrier Yasper von Erikson, HD and ED 0/0, PRA clear (DNA test), BH, SPr3, ZPO1, ZVV3.
- Belgian Shepherd Malinois Aligátor Fire Fox Kapanga, HD 1/1, ED 0/0, SDCA1 N/N, ZM, ZVV1, ZPO1, BH, SPr3, IPO3, Junior Chamionshihp participant (IPO2 a IPO3).